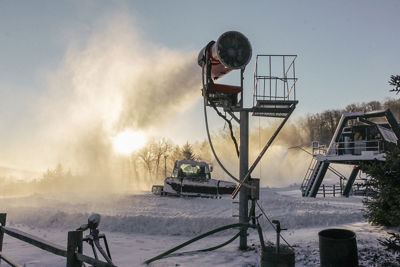 Machine made snow is made up of exactly the same stuff as natural snow - frozen water. When the weather provides cold temperatures, but no moisture, our snowmaking team simply adds just the right amount of moisture to the atmosphere to produce excellent snow. It may sound easy, but making great snow requires millions of dollars in specialized equipment and an experienced team of snowmakers.

You may have heard people say that machine made snow is more durable than natural snow. Believe it or not, it's true! here's why:

The classic six sided natural snowflake is soft and fluffy when it falls from the sky. That's why natural snow can be so fluffy at first - it is mostly air. However, over time the little branches break off and because of the greater surface area the crystal melts faster too. The properties of the snow change dramatically.

Machine made snow looks more like little round balls. As time goes by, the machine made crystal may shrink, but the basic shape stays the same longer. Since it is a ball, it has a smaller surface area so it melts slower too. Therefore, you can groom and ski on machine made snow and it will retain it's original properties longer.