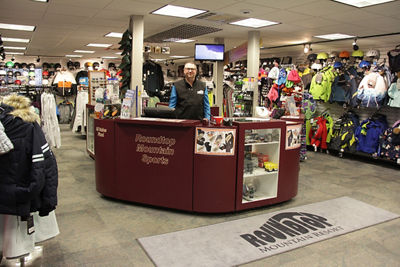 Roundtop Mountain Sports
Roundtop Mountain Sports located right at the base of the slopes in the A-Frame building. Purchase and service your equipment just steps from the snow.
Currently closed for summer, check back in the fall for updated hours!
Mountain View Lodge
We also offer logo items, gloves, sunscreen and accessories in the Mountain View Lodge which serves our Snow Tubing area.
Currently closed for the summer, check back in the fall for updated hours!
Previous tab
Previous tab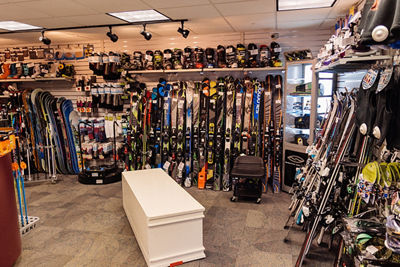 Tuning & Seasonal Leases
Expert Ski and Board Tuning
Our expert technicians have earned a reputation for the very best ski and snowboard tunes in the region. We'll make your skis and board feel like new again! Enjoy the convenience of having your equipment tuned just steps from the slopes!
Seasonal Leases
Seasonal leases are great for growing families or anyone who wants to enjoy skiing or snowboarding on state-of-the-art equipment that is professionally fitted just for you. Enjoy the equipment all season, wherever your winter takes you.
Leases are available in Adult and Youth sizes. Please note that the type of equipment you need is based on weight and boot size, not age.
Brand Name Equipment
Clothing & Gear
Great clothing selection - everything you need for cold weather comfort!
Select from this seasons most popular clothing brands and styles. We also carry a wide variety of accessories such as gloves, hats, goggles, sun screen, logo items and helmets!
Our full lines of ski and snowboard equipment include gear for every ability level. From complete packages for new skiers and riders to the hottest new expert equipment, you'll find it here.
Our friendly and knowledgeable staff is here to help you find the right equipment and clothing for your needs.
Cold Weather Preparation
When the forecast calls for low wind chills, people often shy away from enjoying a great day of winter fun. Many veteran skiers and boarders know that the very best snow happens when the temperatures are low. The secret is that wind chill only affects bare skin! Dress properly and wind chill is eliminated.
The key is layering. Wear a few layers so you can adjust as the temperatures change. A base layer (think long long underwear) followed by an insulating layer (like a fleece) topped off with a water and wind resistant layer will keep you warm and dry on the coldest of days. Be sure to wear warm gloves or mittens (mittens are warmer) and bring something like a face mask or bandana to cover your face. Sunglasses or goggles will complete your protection.
Roundtop Mountain Sports has everything you need to stay warm if you are a few pieces short.
If you start to feel the cold creeping in, be sure to take a break in the lodge to warm up. Believe it or not, drinking water will help protect you from the cold by hydrating your skin.