First Time Guide
There's a first time for everything. Check out the below for tips whether it's your first time for real or just your first time at the 'Top!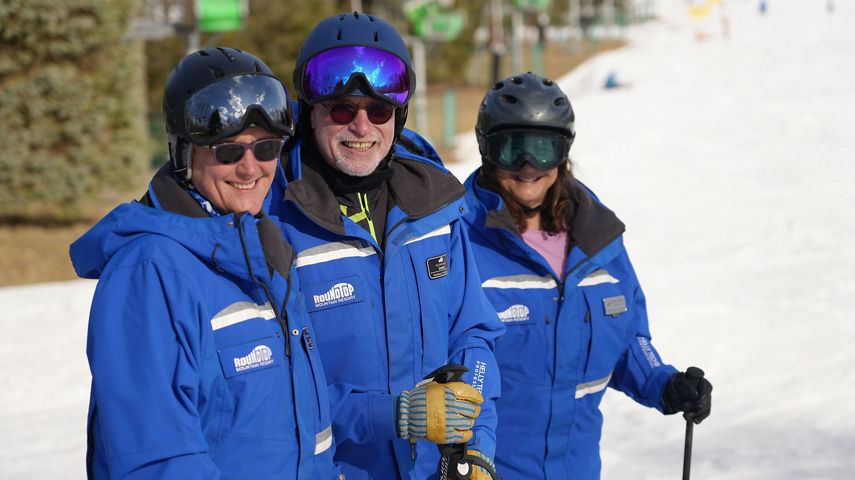 One Pass For It All: Epic Pass gets you on the mountain faster than ever, for less. Check out the video for how!
Unlike Any Other - We are part of a network of one-of-a-kind, world-class resorts; and we want you to experience each resort's unique flavor.
Our Top Ten Beginner Tips
What to Know about Skiing and Snowboarding
Every year we have thousands of visits from families and individuals who have never tried skiing or snowboarding before. We understand the questions that arise and the need to have all as much information to help you plan your trip. Our Top 10 Tips are crafted from the most common questions we receive, complete with links to all the information you need.
Want to reach out and connect? We are here to help, use the contact information at the bottom of the page.
1

What The Weather Is Like

The weather changes frequently in the mountains and affects road conditions. Check the resort weather report and the local road or highway status. Give yourself plenty of time!

2

Where To Go When You Arrive

We are excited to have you here, and we want to make sure you know exactly where to go. Review the Getting Here information based on how you are arriving. Research the resort layout and maps ahead of time and check pre-arrival information if you have lessons booked.

3

The Best Time to Ski And Snowboard

Holidays and weekends are our most popular days throughout the season. The best deals can often be found mid-week or for night skiing. Before you visit be sure to check our Hours of Operation page so you are up to date on what's happening.

4

How To Ski Or Snowboard

Take expert advice from a professional instructor with the patience and knowledge to give clear instructions on the correct technique. We offer group lessons that can be bundled to include equipment and a lift ticket as a package, or private lessons for a tailored experience just for you.

5

What Equipment You Need For Skiing Or Snowboarding

We recommend renting all your ski or snowboard equipment instead of borrowing older gear. It is safer to learn on modern, maintained equipment and it will help you progress faster. Reserve skis or a snowboard online in advance for the best deals and to guarantee availability.

6

What To Pack For a Ski Trip

Staying warm and dry will help keep you comfortable, safe, and having fun! Dress in layers so you can add or remove as needed and ensure your jacket, pants and gloves are waterproof. Read below to learn more about what to wear and where to store gear.

7

Fuel Up

Exercising at altitude takes a lot of energy! Drink plenty of water and be careful not to become dehydrated. Bring plenty of pocket snacks or check out our resort food and beverage options.

8

Make Sure You Have a Lift Ticket

All skiers and snowboarders are required to have a ticket or pass to access the snow and lifts even if you are just starting out. Read below to learn more about how tickets and passes work and be sure to buy online in advance.

9

Where To Start

Ski areas are broken up into trails, categorized by difficulty. Read the mountain information below to understand how to interpret maps and your safety obligations as a skier or snowboarder. Remember the best and safest way to learn is to sign up for a ski or snowboard lesson.

10

Skiing With Kids

Skiing and snowboarding with kids can be intimidating, but we are here to help! The best way for kids to learn is with a lesson. Want to learn together? Consider a private lesson for the family. Read our parent's guide below for our top tips for skiing with kids.
Beginners Guide to Skiing and Snowboarding
More Information
Below is more detailed information broken out into sections. Still have questions? Please don't hesitate to reach out to us using the contact info at the bottom of the page. We are here to help make your trip an experience of a lifetime!