Learn From World-Class Instructors
Build your skills and confidence in a fun and supportive environment.

Uncover the best terrain
Sample all of the best trails with our expert guides.

Skip the lines
Spend more time doing what you love.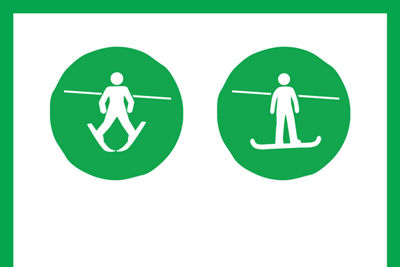 Beginner Levels 1 - 4
Level 1: This is your first time skiing or snowboarding and you need to learn the ropes.
Level 2: You know a thing or two like how to put equipment on and how to move around the flats. But you're ready to move on from comfortable gliding, stopping, and making simple direction changes on the easiest learning terrain.
Level 3: You're comfortable gliding and making turns on beginner terrain and are ready to try easy green runs on the mountain.
Level 4: You ski or ride comfortably and confidently on beginner terrain. You can ride chairlifts and link smooth, gliding turns.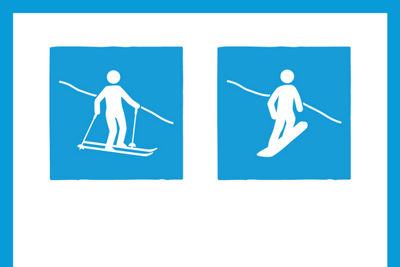 Intermediate Levels 5 - 7
Level 5: You're comfortable and confident on all greens and some blues. Linking turns of varying sizes and controlling speeds by adjusting your line with little need for braking is not a problem.
Level 6: Blue terrain is no longer challenging. You're comfortable, confident, and capable of skiing or riding the easiest ungroomed and moguled blues. Linking turns of varying sizes at moderate speeds.
Level 7: Blues and easy blacks are comfortable for you. You can confidently ski or ride moderate moguls and ungroomed snow and can modify your technique like linking turns and stay in constant rhythm on groomed blues.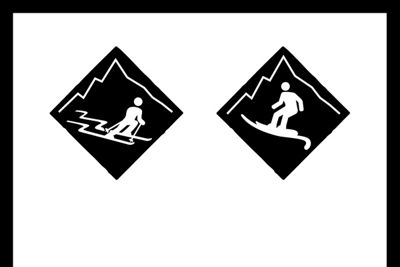 Advanced Levels 8 - 9
Level 8: Competent, confident, and consistent describes your speed and technique. You're already skiing or riding with flair and offensive tactics on most terrain, carving arc-to-arc turns on easier groomed runs, and handling moderate mogul runs with good speed and rhythm. Ungroomed conditions are not a problem and you can handle all but the most extreme inbounds terrain.
Level 9: You're one step away from "expert" level with your offensive movements and tactics. You can ski or ride with confidence and flair, almost anywhere, almost any time.
Buy Early, Save Big
Book lessons online for the best availability and price. Space is limited and lessons can sell out.
---
See All Lessons

See All Lessons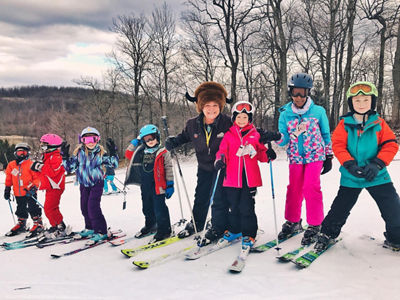 Rent Online and Save!
Experience the Fun Mtn with a more convenient way to rent equipment. Roundtop offers online rental bookings this season, saving you both time and money. Book your rentals today!

Frequently Asked Questions (FAQs)
What ski and snowboard lesson offerings will you provide this year at your resorts?
We are pleased to offer a range of ski and snowboard programming including group and private lessons as well as season long and specialty programs. Specific details can be found on our Ski and Ride School pages.
When will season long programs be available for enrollment?
Seasonal programs for the 2023-2024 season will be available for new participant registration starting the last week of August. Please note that early registration for some seasonal programs has been granted to previous program participants. This may result in limited spots for new participants.
What is included with a ski or snowboard lesson?
Each lesson will include professional instruction from one of our instructors. If offered, full day lessons will include a break for lunch, and full day group lessons for children will include lunch. Participants will be responsible for bringing or purchasing their own food in private lessons, group lessons for adults, and season long and specialty lessons for children unless specified in the program details.
Do lessons Include rentals and lift tickets?
No, lessons do not include lift tickets or rentals as standard. These items must be purchased separately, and all lessons require a valid lift ticket or season pass to participate. While purchasing a group lesson, you can add-on lift tickets and rentals at a discounted rate. You may bring your own equipment. Passes are available to purchase here. Buy in advance and online for the best rates.
What should I bring to my lesson?
Weather conditions will vary and remember you will spend the day outside! We recommend dressing in layers including warm clothes, googles/sunglasses and sunscreen. All lesson participants are required to have a valid season pass or lift ticket, as well as ski or snowboard equipment. For complete details on what to bring and when to arrive, checkout our Know Before You Go page.
What if I have special needs or requests, e.g. Drug or Food Allergies?
We do our best to accommodate dietary needs and offer different options when possible. When registering for child group lessons, you will have an opportunity either when booking or when checking in for the lessons to inform us of drug or food allergies. Severe allergy concerns or circumstances should be discussed with the school staff directly prior to your visit.
Does my child need to be potty trained to participate in a lesson?
All children are required to be potty trained to participate in Ski and Ride School lessons.
Can and should I tip my instructor?
Gratuities for instructors are not a requirement but an appropriate and appreciated gesture. A 15-20% gratuity based on the cost of the lesson will make your instructor feel very appreciated and valued.
What is the cancellation and refund policy for Ski & Ride School lessons?
Changes or cancellations can be made in advance of your lesson date by contacting the Ski & Ride School conducting your lesson. A cancellation Fee will be assessed for a guest when they cancel either a Group or Private Lesson as follows:
Any Ski & Ride School Product that is cancelled prior to 48 hours of the lesson's start time will be issued a full refund.
Any Ski & Ride School Product that is cancelled less than 48 hours before the lesson's start time will be charged the Cancellation Fee.
For Ski & Ride School Products that contain one lesson day, the Cancellation Fee is 50% of the cost of the lesson.
For Ski & Ride School Products that contain multiple lesson days, and a full Cancellation is required, the Cancellation Fee is 50% of the cost of the first lesson. All other days in a multiple lesson Ski & Ride School Product will be fully refunded.
The resort will not cancel lessons due to weather if the resort itself is operational. For more detailed information on refunds and cancellations, including the policy for Seasonal or Season-Long Programs, please refer to the Terms of Sale.