Summer Camp
Registration for Summer 2023 coming soon!
Summer Camp at Roundtop is one of the best parts about being a kid! Not only does camp promote physical activity, teach life-long skills, and build new friendships; it is a BLAST! We are ecstatic to be back for this year and cannot wait to welcome you to our Roundtop family.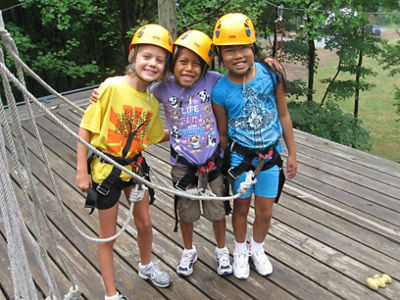 Camp Dates & Hours
June 12-16
June 19-23
June 26-30
July 3-7
July 10-14
July 17-21
July 24-28
July 1-August 4
Drop off between 8:00am & 8:30am.
Pick up between 3:30pm & 4:00pm.
Ages 8-15
Summer Camp Activities
Our ever-popular summer camps may include:
High Ropes Challenge Course--Features several 35-foot towers and numerous features that are designed to build camper's self-confidence to new levels.
Low Ropes Course--Through challenging tasks and scenarios, low ropes focus on the process of problem solving and working together in a group on communication, trust, and cooperation.
Climbing Walls
Cedar Maze--find checkpoints and exit while racing against the clock through our 4,800 square foot maze.
Kayaking--Campers will kayak around our lake playing team building games and activities with on-the-water instruction.
Canoeing--With a partner, campers will learn the skills to work together to boat around on the water.
Photography-Receive instruction on taking good photos. Camper will use their photography skills to take action shots or nature shots in our beautiful setting.
Challenge Based Field Games
Canopy Crawl-A two story fun challenge structure with rickety bridge, cargo net crawl, swinging bridges, and swinging log.
Alpine Traverse-A towering passageway featuring an incline maze wall, suspension bridge, worm hole and incline bridge.
Fishing
Disc Golf
Orienteering
Archery
Paintball
Scenic Chair Lift Ride to the top of the mountain.
Please note that all activities are subject to change.
Included in the tuition cost:
Lunch everyday
Parent's Day—Parents are invited to enjoy a pizza lunch on Friday (optional). Parents and campers can then spend the afternoon together enjoying some of the camp activities, including s'mores over an open fire.